A Star Is Born
Tatum O'Neal was born on November 5th, 1963. The daughter of famous parents, Tatum was the only daughter of actors Joanna Moore and Ryan O'Neal.
Life seemed happy for the O'Neals as they welcomed another child. Griffin, a few years later, in 1964. But things were far from perfect, and their seemingly idyllic life was anything but happy behind closed doors.
Living With Mom
Tatum's parents led anything but a happy life as they separated, finalizing their divorce in 1967. Sole custody of Tatum and her brother would be awarded to their mother, Joanna.
This move would be the start of a rocky life for Tatum. Her mother had all sorts of issues. While her mother battled dependency issues and enjoyed her life as a single woman, the children were often left to fend for themselves.
Life With Joanna
Life was quite difficult for young Tatum. She and her brother have often come together in later years to speak of the pain and isolation they suffered, saying it led to problems for them later in life.
After one too many concerns were raised about their safety while living with their mother, Ryan O'Neal could see the effect that Joanna's new lifestyle had on the kids and sued for full custody. He was granted custody in 1970, and the children moved into what everyone hoped would be a happier home.
A New Career
Life was happy once again for Tatum and her brother. Though her father had a bit of a nasty temper and a reputation as a playboy, he was far more attentive than Joanna and ensured that his children had all that they needed and more.
It was Ryan who would use his power in the acting world to launch Tatum's career as she landed a role in the 1973 movie Paper Moon, starring alongside her father in her debut feature film about a con artist and his unlikely sidekick.
Rave Reviews for Paper Moon
Paper Moon was well-received by Hollywood's toughest critics, who praised ten-year-old Tatum for her impeccable performance as Addie Loggins. Everyone loved Tatum and her phenomenal acting skills, all except one person — her own father.
Ryan couldn't stand the attention his protégé was getting from some of the biggest names in the acting world, leading to a tense relationship between the two that would last for decades. What happened next only seemed to make the situation worse.
Awards and Recognitions
In early 1974, news of Tatum's Oscar nomination for her role in Paper Moon had Hollywood abuzz. At ten years old, the new actress was the youngest person in history to be nominated for a prestigious Academy Award.
Of course, she won, much to Ryan's disappointment. With Ryan wrapped up in his own drama and Joanna off with one lover or another, Tatum attended the awards ceremony on her own.
More Accolades
Tatum was a hot commodity and had the talent to back her popularity. She would go on to win or be nominated for a few more awards after her Oscar win.
This included a Golden Globe for Most Promising Newcomer and for Best Actress in a Motion Picture in the Comedy or Musical Genre. Pretty impressive for a ten-year-old.
A Lonely Childhood
Tatum has often spoken of her childhood being the cause of her crazy lifestyle. From going to the Oscars alone when she was only ten years old to fighting for attention from an absent and uninterested mother, these were all things that played a part in her downfall.
While things seemed to improve once she moved in with her father, his jealousy of her somewhat instant fame was all too much for him to bear as he felt she had overshadowed him with her role in Paper Moon.
The Stanley Kubrick Debacle
Ryan continued to focus on his career, and when he landed the lead role in Stanley Kubrick's feature film Barry Lyndon, he thought nothing of dropping his daughter off at Stan's house, where she remained for a year. Her time there was anything but happy as she didn't get along with Kubrick's daughter Vivian.
Whether it was a bout of jealousy or just kids being kids, Vivian once cut all of Tatum's hair off, resulting in the young actress sporting a cropped hairstyle when she walked the red carpet at the Oscars in 1974.
A Downward Spiral
The Oscar win was just the start of a wild life for Tatum as her father dragged her to adult showbiz parties with some of the biggest names in the industry. One such party included a visit to the Playboy Mansion, which, as you can imagine, led to a lonely life for a little girl who wanted nothing more than to make friends.
Tatum found a friend in actress Melanie Griffiths, but Griffiths had ideas of her own and was secretly interested in pursuing a relationship with her father. While on a trip to Paris, Tatum found her supposed friend and her father together, all but destroying their relationship.
Relationships and Lies
It would be hard to blame Tatum for having a rather skewed sense of what a normal relationship should be, thanks to her parents and the circles she ran in. So, when she was dating a man 16 years her senior when she was only 14, she saw nothing wrong with the relationship.
Fighting to have a somewhat normal life, the actress went on to date stars like Michael Jackson, a relationship that ended with Jackson stating that much of their relationship was based on lies. Sadly, it would be a few years before Tatum would meet her Prince Charming.
Enter John McEnroe
Fast forward to 1984, and Tatum met tennis bad boy John McEnroe. She was smitten, and the two quickly moved into his New York apartment together. Despite his infamous temper and rumors of a rocky relationship, Tatum was happy, and the pair were married in 1986.
As the saying goes, "First comes love, then comes marriage, then comes mommy with the baby carriage…" Tatum and John welcomed three children in a few short years, but the constant fighting and flared tempers were all too much for them, and they separated after just six years of marriage.
Divorce
Tatum and John finalized their divorce in 1994. The breakdown of her marriage led to a downward spiral of substance dependency and instability, with her children often fearful of her because of her temper.
While the now-divorced Tatum and John had kept things as amicable as possible when it came to co-parenting their children, the situation was too much for John as he filed for — and won full custody of their children in 1996.
A Wake-Up Call
Losing her children turned out to be just the wake-up call that Tatum needed to get her life back on track. Getting clean was the first step, as she gave up her dependency and fought to be a better mother to her beloved children while trying to mend her relationship with her ex-husband.
It would take many, many years for the bond to be repaired, but Tatum was determined to give her children the life they deserved with a loving, attentive mother. While she worked hard at making these necessary changes, her relationship with John was well and truly over.
The Tell-All Memoir
A few years after their divorce, John released his tell-all memoir, You Cannot Be Serious. There he shared intimate details of their marriage, her substance difficulties, and what their personal life was really like. Tatum then responded to his claims with slanderous comments with her own.
Many years later, Tatum would confess her infinite love for John in an interview with CBS Sunday Morning. She said: "The happiest times of my life were the times that I was married… I was loved, I was cared for… I've never met anyone who even comes close to my ex-husband."
Tatum's Hollywood Career
After starting in Paper Moon, Tatum found herself the star of films like Bad News Bear and International Velvet. But, as many Hollywood careers often do, the light that once shone brightly faded in the '80s as her film career came to a screeching halt.
Taking on small roles on TV shows like Law and Order, Criminal Minds, and the popular series Sex and the City, Tatum's career would only get a much-needed boost in 2004 when she landed the role of a lifetime that would once again put her back on the map.
The Rescue of Tatum
Rescue Me hit TV screens across America in mid-2004, with O'Neal playing the role of Maggie Gavin, the wife of the lead character who happened to have issues with adult beverages. Critics praised her performance in the show as it lasted a full seven seasons before being axed.
While Tatum was a big hit, the content the show dealt with hit a bit too close to home, as she soon fell back into her old ways, ultimately being arrested in 2008. While she initially denied a relapse, damning evidence made it difficult to refute claims that she had a problem, and she eventually confirmed it in an interview later that year.
Relapses and Rehab
O'Neal entered a rehabilitation treatment program in 2008, vowing to get clean and rid herself of her dependency. While she knew she had a problem, the only solution she had was to tackle it head-on, but not before she owned up to her mistakes and claimed responsibility for her actions.
In a statement released shortly after her rather public breakdown and arrest, she went on record saying, "I made a giant, horrible mistake that I regret and feel really ashamed and embarrassed about. I take full responsibility."
Tatum and Ryan: The Conflict Continues
Tatum continued to fight for her father's approval, and while the situation was anything but amicable, she put aside her own worries and problems to help support her father as he dealt with the passing of his lover, Farrah Fawcett, from cancer in 2009.
Taking her ex-husband along with her for support, she wanted to be a shoulder her father could cry on as he battled with the loss of the love of his life. Farrah and Ryan had met and fallen in love in the late '70s and were one of Hollywood's iconic love stories.
The Interview
A 2010 interview with People Magazine had Tatum once again opening up about her relationship with her father. "He told me he's sorry," she said, going on to say that he was all she had in her life. Having lost her mother to cancer in 1997 and now her "stepmother" in 2009, Tatum was desperate to have her father in her life.
Believing that forgiveness is the best policy, she tried to put the past behind her and focus on a way forward that would see her and Ryan once again happy and present in each other's lives. Enter Oprah and a reality show.
Oprah's Intervention
In 2011, Oprah produced a new reality show that saw Tatum and Ryan come together to hash out their rather tumultuous relationship, hopefully leading to a reconciliation. The show was titled Ryan and Tatum: The O'Neals, and only ran for one season before both stars decided to quit.
From her ex-husband's refusal to have their children appear on the show to revealing her painfully dark and troubled past, the show was a disaster for Tatum and seemingly only made her relationship with her father even more strained than it was before. Hard to believe, but true.
Memoirs and Memories
Tatum released not one but two memoirs. The first, aptly titled A Paper Life, was released in 2001 and dealt with the heartache and loneliness she suffered as a child. It was rather controversial and revealed a number of accusations against her father. This led to a further strain in the relationship between the two.
Her second, titled Found: A Daughter's Journey Home, was released shortly after her reality show, where she went on to say that the production was nothing but a show of happy faces for the cameras and that the reunion was nothing more than a farce. Ryan, too, blamed Oprah and her reality show for the breakdown in their relationship.
Family Matters
To say that things between O'Neal and her family were tense is nothing short of an understatement, as her brother admitted in a 2015 interview that he no longer speaks to his sister. While they were close as children and often had to rely on each other for company and support, their relationship, too, crumbled over the years.
Sadly her relationship with her father would remain rocky for many years, with Ryan and Tatum only reuniting in 2020, 17 years since their last family photo together. Posting about the get-together on Instagram, the actress shared her gratitude that she and her father could once again come together for a family photo with Tatum's children.
Medical Emergencies and Heartbreaking Diagnoses
In 2016, shortly after her brother's interview in which he admitted that he and Tatum were no longer on speaking terms, a shocking medical diagnosis would see Tatum in a fight for her life as she lost mobility and range of motion in her hands.
Diagnosed with Rheumatoid Arthritis, Tatum would undergo a number of surgeries to her spine, affecting the use of her hands. As she shared in an interview a while later, "My hands stopped working… I can't tie my shoes. I have to re-learn to write." But her troubles were far from over as an experimental medication she was on led to chronic pneumonia, stopping the once popular actress from continuing her acting career.
A Podcast
Unable to star in feature films, and with her health failing her at every turn, Tatum turned to a new source of therapy and self-healing as she started her own podcast. Tatum Verbatim was created in 2017 and focused on creating a safe space where she could share more about her life as a child star, an actress, and her most important role yet, motherhood.
It was this podcast that led to an open discussion with her daughter about their relationship, with Emily sharing what it was like growing up in a turbulent household. Sharing her regrets of her former dependency, Tatum was able to heal her relationship with her daughter and her sons, and the family is stronger and happier than ever before.
The Love of a Mother
While Tatum could have given up and accepted her fate, she decided to turn her attention to her children. She worked hard to repair the once-strained relationships. They're now focusing on a happy future together. Her daughter, Emily, was quoted as saying, "My mom's incredibly loving… My mom lights up every room that she enters."
It's always good to know that no matter what happens in life, you'll always have the unwavering love of your children. For Tatum, this love is just what she needs to get her through even the darkest days of her multiple illnesses.
Tatum Then
Once a lonely little girl who would do anything to make friends and find love, Tatum found herself feeling isolated from her family. While her relationship with her mother was never a good one, she felt much pain and loss when Joanna lost her battle with lung cancer in 1997.
Mourning not only her mother but the life she never had, her mother's passing was yet another stone in the path that would cause Tatum to stumble and fall as she tried different ways to deal with the pain of her lost childhood.
Tatum Now
Fast forward many years, and the 56-year-old actress has finally found peace in her life. She has repaired her relationship with her children and ex-husband.
Today, Tatum is continuing to work on herself and try to bury the difficulties that have plagued her for so many years. Taking one day at a time is key.
Tatum's Relationship With Her Father
While it'll probably never be perfect, Tatum's relationship with her father has improved over the last few years, with the family spending as much time as possible together.
Her relationship with her father is on the up and up. While Tatum isn't as active as she once was in her acting career, she has made a few appearances that have put her back on the map.
Not to Forget
Tatum was cast in the 2021 movie Not to Forget alongside Hollywood greats Cloris Leachman and Olympia Dukakis. Playing the role of Doctor, O'Neal had critics once again raving about her acting abilities. Some said that this was the break she needed as she entered a new era of acting.
While she is yet to appear in any upcoming movies, the actress has turned her attention to her project "Behance" which focuses on discovering new talent in the acting world. Who better to help young stars get their big break than Tatum O'Neal?
The Story of Sophia Loren: A Hollywood Star Who Loved Only One Man for 50 Years
Illegitimate Child
Born in poverty, Sophia was an illegitimate baby of a single mother born in the charity ward of a hospital in Naples. Sofia Villani Scicolone would go on to live a real-life fairytale, and she transformed into one of the best and most loved stars of cinema.
But her early life was not so glamorous, in fact, Loren shared a bed with at least three family members until she, her younger sister, and her mother moved from her mother's family home.
She Escaped To The Theatre
Her last name came from her father, Riccardo Scicolone, who refused to marry her mother, Romilda Villani, and would not allow her younger sister to take his name.
According to Loren, she was taunted as a child for being illegitimate. Even as a young girl, Sophia found herself drawn to the theatre, making many trips to see her favorite Hollywood stars on the screen. She would sometimes watch four shows in a single day. And even at the age of 11, she knew her future would lay in films.
Miss Eleganza
It was 1950, and a young Sophia appeared as a contestant in the Miss Eleganza beauty contest in Rome. As though a ploy by Cupid, Carlo — a renowned Italian film producer — was one of the competition judges, and from the moment she stepped on the stage, he could not take his eyes off of her.
"I immediately knew that she was someone exceptional. Something played off her that gave her a kind of illumination," Carlo Ponti said of the first time he saw her.
When They First Met
Sophia met the love of her life, Carlo Ponti, when she was just 17 years old. At first, he was just a director for her and Carlo took an interest in training her: he taught her manners, got rid her of accent, made her read books about art, and he insisted she learn English.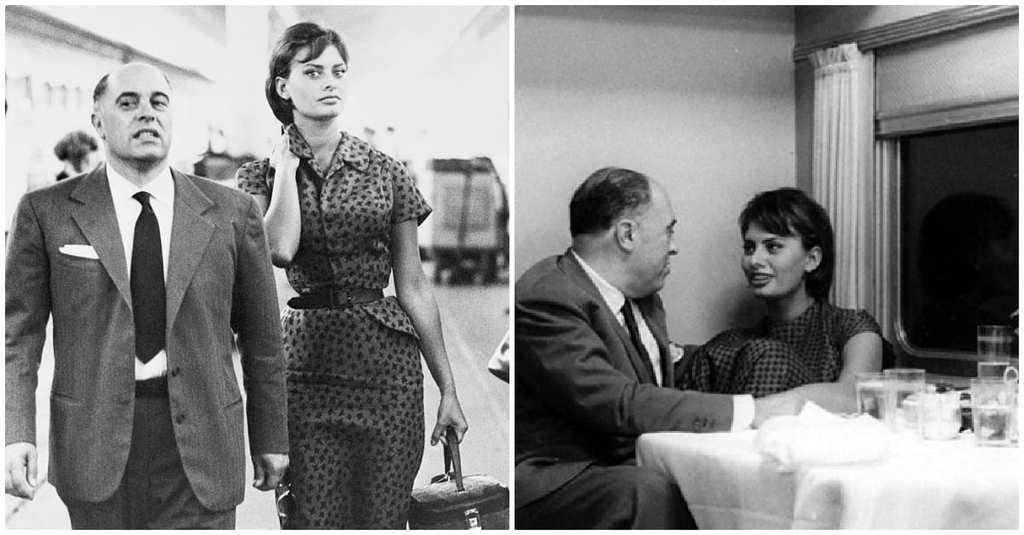 He became a mentor to her, he protected her, and soon a strong feeling prevailed. It was their love that helped them overcome the many obstacles to happiness.
He Was Her Mentor
Despite there being immediate chemistry between them, Ponti was previously married, and despite being separated from his wife, the circumstances put a halt to their romance.
"To Sophia it was just unthinkable to be the 'other' woman in his life, especially after her strict and conservative upbringing that she had grown up about the sanctity of a marriage." Carlo Ponti nevertheless took her under his wing, becoming her talent agent, and changing her name from Sofia Scicolone [the name of the father who was never there for her] to Sophia Loren.
They Grew Closer
With the help of Carlo, Sophia appeared in an astounding thirty films, and it was during this period that the pair grew closer and closer, becoming inseparable. Sophia only had eyes for one man, despite their 22-year age difference.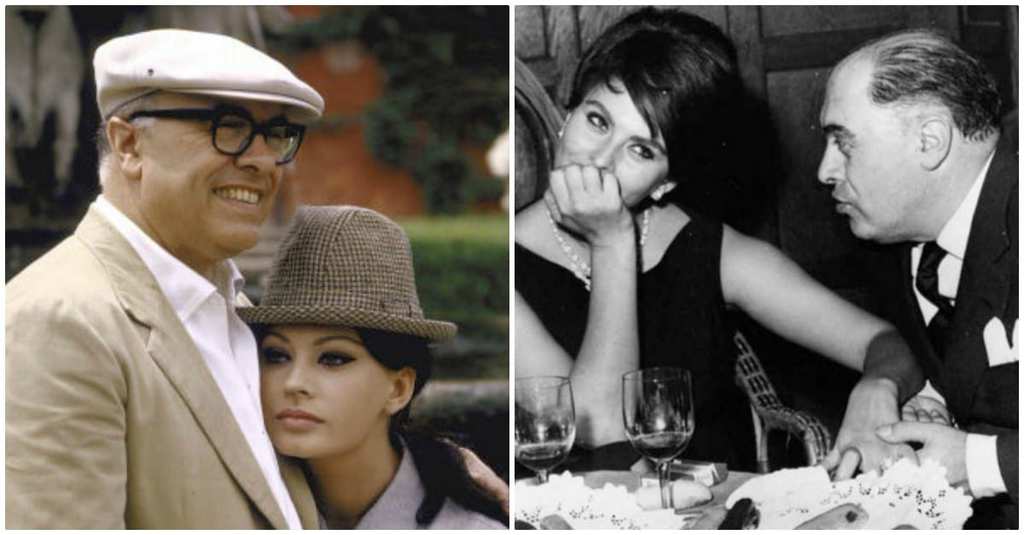 After four years of companionship, Carlo finally bought the now 20-year-old Sophia a diamond ring. They were secretly engaged for three years. Madly in love with one another, the pair would not believe critics who said their marriage would not work, and on September 17, 1957, in a simple and secret ceremony, they finally wed.
Then Came Cary
Sophia Loren and Cary Grant shared amazing chemistry in the movie Houseboat. They first met when they both played in The Pride and the Passion back in 1957. Loren was about to marry Carlo Ponti and faced a choice that was to determine both her personal life and her career.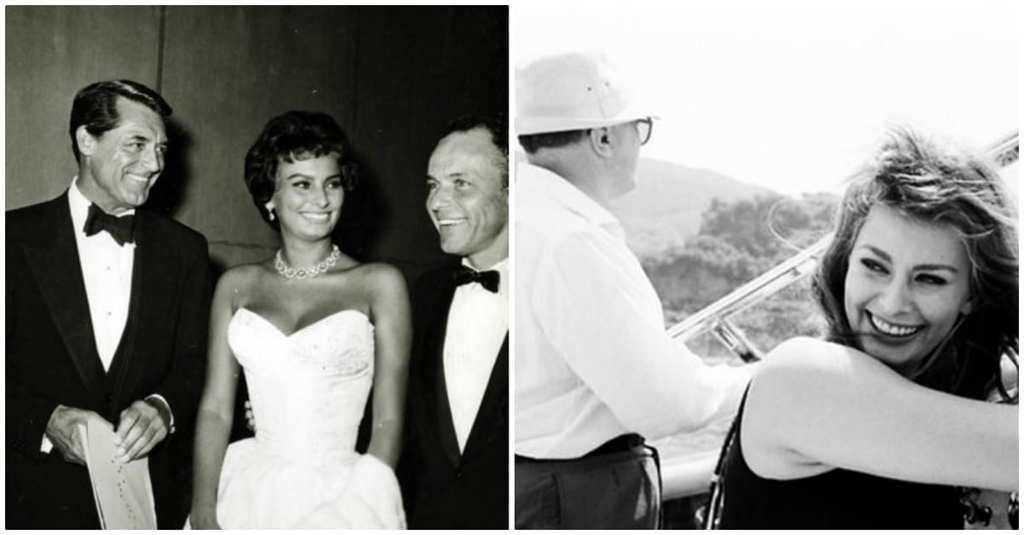 Grant asked Sophia to marry him while they were filming, but he belonged to another world in America. Sophia was scared to change her life completely without knowing if their relationship was real.
A Difficult Choice
"They were very different men. It was difficult. It was my first American-language film, and my English was so very terrible. I was upset. I needed help on many occasions with the language, and Cary would help me." When their filming of Houseboat finished, they exchanged numbers, and he said he would call.
In fact, he did come to visit her on the set of an Italian film, Two Women, and then when she was acting in a film in New York, he came to the house.
Carlo Was Jealous
On the day Houseboat concluded, he sent her a giant bunch of yellow roses. She was leaving on the plane and boasted to Ponti about the yellow roses.
"Yes, it wasn't a nice thing to do. I think I wanted to test him, to test how he felt. I was very young and thought if he got angry and jealous, it meant he loved me." In fact, Ponti was so jealous; he became angry and hit her. Jealousy doesn't equate to love, but for Sophia, it meant he cared.
Ciao
She was together with Carlo at this time and they already had a son. Loren said, "One day, Cary called me when I was in New York for another film. 'How are you?' 'I'm fine,' I said. 'Why are you calling?' And he replied, 'Because I wanted to say ciao.' That was it. He died. He must have known he was dying."
She also said, "I felt that I could never fit in there. I never felt like I have a future there because of my nationality."
Sophia's Mother
Even though she had a father, he never married her mother, Romilda Villani, and was absent from her life. Her mother was also beautifully regal.
When she was 17, Romilda won a contest held in Italy by MGM Studios to find a new star – and the prize was to go to Hollywood. It was her dream to be an actress, but her parents both said she was too young and didn't permit her to go. Romilda, according to her daughter, "oozed allure."
They Couldn't Get Married
By this time they couldn't get married because Ponti couldn't get a divorce – the laws in Italy at that time were extremely strict and dictated by Catholic rules. Adding to this vulnerable point in time came the gently seductive, impossibly charming Grant, who courted her while on the Pride and the Passion set.
They had many intimate dinners. Why didn't she take Cary Grant? Loren explained, "You know, I had to make a choice, Carlo was Italian; I know it was the right thing to do for me."
Father Figure
The older, respected father figure is something that she was always searching for, which is perhaps why she loved Carlo Ponti, who was 22 years older. He was her emotional substitute for a father. The first problem was that Carlo Ponti was already married and had two children.
Back then, one had to obtain permission to divorce from the Vatican, but he couldn't get permission, and so the lovers had to do it in another country. They eloped to Mexico in 1957, where Ponti got his official divorce and married Loren.
The Marriage Was Illegal
But after returning home, the spouses were faced with new problems. In Italy, their marriage wasn't accepted. So Ponti was accused of bigamy and Lauren of illegal cohabitation.
They didn't even have the right to appear together in public, they were in love and didn't want to go along with the rules of society and end their relationship, so they decided to leave Italy and lived in exile for many years while they sought a solution.
They Had To Move To France
Attempts to resolve their issue proved unsuccessful, and in the end, the couple acquired French citizenship and moved there. Ponti's ex-wife also had to acquire French citizenship in order to file for divorce. Finally, Sophia and Carlo got married again in 1966. This time their marriage was official.
A seemingly unlikely pair, as time passed, their love only continued to deepen and flourish, just as they would have continuing successes in their careers in film & television.
Starting A Family
Loren didn't want to just be a married woman; she dreamed of being a mother and desperately wanted to start her own family. Unfortunately, this wasn't that simple as the actress had already had two miscarriages.
After some tests she soon discovered that her hormones were imbalanced and that was the cause of her miscarriages. So she underwent hormonal treatment and after being prescribed estrogen shots and undergoing fertility treatments, Loren finally had a successful pregnancy.
Reclusive Lifestyle
When Sophia finally became pregnant she was 34 years old, but doctors had her on bed rest as a precaution. She was cautious and followed their advice and led a reclusive lifestyle from a hotel room in Geneva for months.
It was on the 29th of December in 1968 that she gave birth to their first son Carlo Ponti Jr. Four years later on the 6th of January 1973, she gave birth to their second son Edoardo Ponti.
Charged
She may love Italian food, but the country's religiosity, rules, and regulations certainly didn't please her. Indeed, her husband was convicted in Italy for income tax evasion, misuse of government subsidies, and illegal export of Italian assets and artwork, resulting in a four-year prison sentence.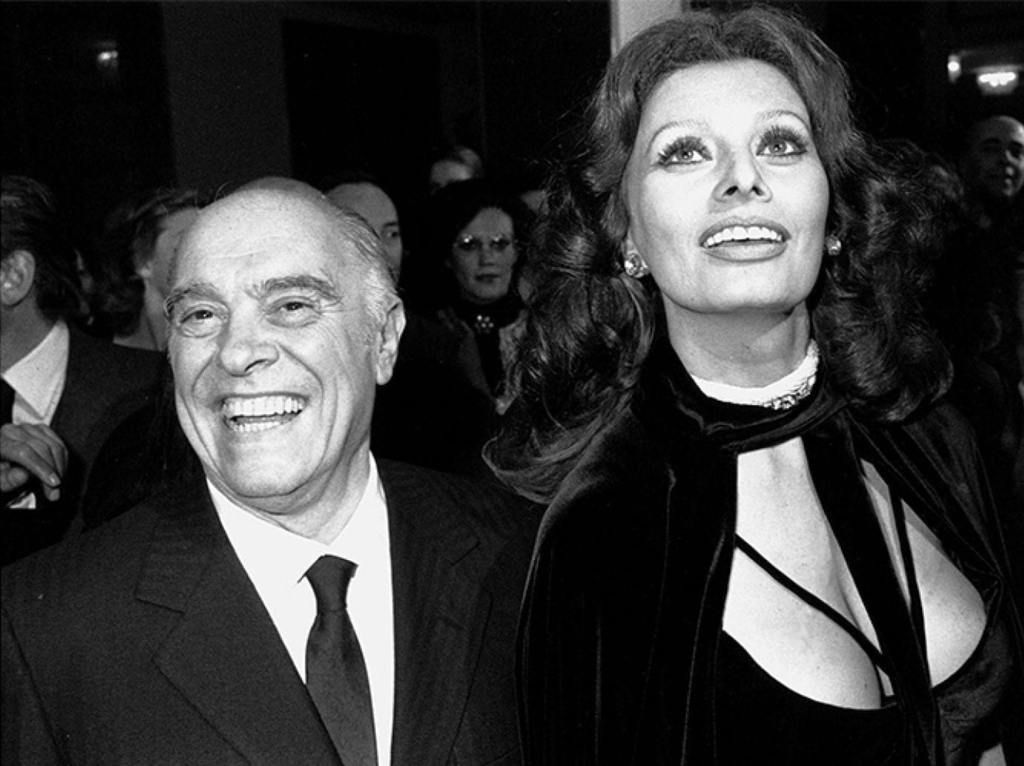 Loren was charged for complicity in the crimes but was later acquitted. The paintings Loren was accused of smuggling included works by Picasso, Braque, de Chirico, and Canaletto, which were valued at around $6.7 million.
I Was Innocent
"It was painful because I was innocent all that time. It was bad management, but they went on with the trial. They gave me one month in jail and released me after 17 days."
"No, it took 40 years. Forty years later, I won the trial. I had paid every penny. I made a lot of films outside of Italy, and it was convenient, so we moved." Despite having to move, they were happy; they were in love and stayed together for half a century.
He Watched Over Her
Once she cut her hair to look like an actress who was very successful at the time, Lucia Bosé, and Carlo said to her, "You should always wear your hair short."
"Each time I did something that he had a liking to, he would always say, 'You should always do that.' And yes, this gave me confidence. He watched over me and he … took my insecurities away. It seemed like he would take care of me, which no other man had done," Sophia said.
Prison Sentence
She says that the first time she met Ponti, she immediately felt at home. She noticed after she saw him, she felt calm. Carlo Ponti made her into what she is, and together they steadfastly withstood all the blows of fate.
After her and Ponti's run-in with the Italian law regarding marriage, they were essentially exiled from the country. Loren missed Italy so much that Ponti would drive her to the top of St. Gotthard Pass in Switzerland so she could just glimpse her homeland.
Why Did She Feel Like This?
"I would think to myself, 'Why do I feel like this?' Because I trusted him. I was terribly young. I just turned 17 when we first met, and it wasn't until a long time later that we got together." she said of her husband.
He gave her confidence and one day he bought her an outfit, and he said, "You should always wear suits because it looks very good on you." He always made a point of focusing on what was positive…
Carlo's Passing
The couple eventually moved again, this time from France to Geneva, Switzerland, where they lived quietly and happily. It was the New Year of 2007, and Carlo, having trouble breathing, was rushed to the hospital. He was now 94 years old, and Sophia & Carlo's relationship had spanned an amazing 50 years.
Carlo remained in the hospital for ten days, fighting, but eventually passed away on the 10th of January 2007. Sophia had not left his side for the entire ten days.